Skip to main content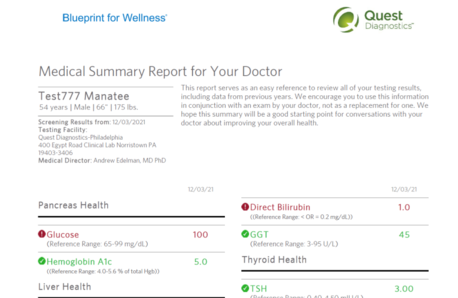 2022 HiiP activities, including Prescription for Health Zero Risk, Prescription for Health Lite, and Prescription for Health Full are based on prior year's Blueprint for Wellness Lab Results. These results can be found on pages 28-29of your MyGuide that was mailed to your house. They can also be found by logging into your Quest account here and followin these instructions:
1. Select "Log In" and use your previously created username and passwod that you created for your EREQ.
2. For assistance with the Blueprint for Wellness website, including forgotten username or password, call Blueprint Customer Service at 1-855-623-9355.
3. If Blueprint Customer Service is unable to assist you, please call 941-748-4501 x6412.
HiiP Lab Values are listed below.
Total Cholesterol
Blood Pressure
Triglycerides
Bilirubin
GGT
Alkaline Phosphatase
Glucose
Hemoglobin A1c
Uric Acid
Cotinine
BMI
eGFR