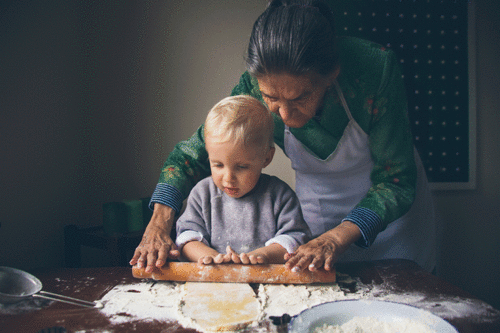 Christina Edenfield, RD, LD/N
Registered Dietitian/Nutrition Advocate
Use these tricks and tips to make rich, calorie-laden recipes lighter and healthier.
We all grow up having certain meals and dishes that we consider our comfort foods. They provide us with fond memories of family and friends, comfort from life stressors, and an overwhelming sense of calm.
Most of the time, these comfort foods are full of heavy, calorie-laden ingredients like butter, cream, shortening, sugar etc. If you're anything like me, being told I shouldn't eat these foods doesn't really provoke a positive, welcoming experience for me. I mean, I KNOW I should limit these foods, but for someone to tell me they should be completely off limits…forget it.
I grew up in the south - Augusta, Georgia to be specific - surrounded by peach pound cake, potato salad, mac and cheese, fried anything (chicken, okra, green tomatoes, pork chops, turkey), teeth-decaying sweet tea…you get the picture. These types of foods and meals bring back wonderful memories of getting peaches from a local farm with my grandparents, "putting up" (for you northerners, I mean prepping for the freezer or canning) 50 pounds for the next year until peaches came back in season, and making fresh peach pound cake for family gatherings.
Just because I want to eat heathier now, does not mean I have to forget about my roots and give up those comfort foods I love so much. That's how the challenge to lighten up all of my southern family recipes that have been passed down for generations began.
I shared my tweaks and updated recipes with my family. At first, they were reluctant – no way could they be anywhere close to grandma's, or even remotely taste good for that matter (I have a lot of tough and opinionated food critics in my family). But, after trying them, even with their closed minds…they really enjoyed the lighter versions. Some family members even said they were better than the original…not to my grandma's face of course.
Below I have provided some simple substitutions to try to lighten up your favorite foods, and a few examples of how to apply them to actual recipes so you can experiment with lightening up your own favorite comfort foods. Start small and work your way up, experimenting with ratios of original and lighten it up options. And make sure to give your taste buds a chance to adapt.
For example, if you want to cut back the amount of oil used in your favorite cake recipe and you usually put in ½ cup of oil, put in ¼ cup of oil and a ¼ cup of mashed banana or unsweetened applesauce. If you want to cut back the amount of sugar in your tea that you get at a restaurant, you can ask for ½ sweet tea and ½ unsweetened in the same cup. If you are not there yet, start with replacing a ¼ of the sweet with unsweetened and work your way up gradually, giving your taste buds time to adjust.
Recipe Examples