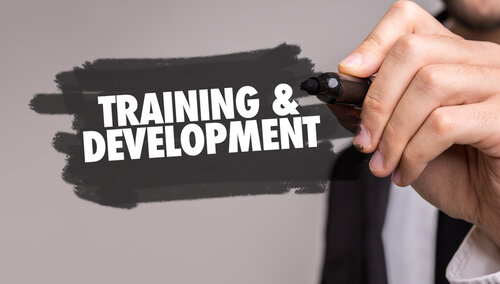 Christine Fritz
HR Training & Development Manager
What is Career Wellbeing?
In last month's blog Rachel Quinn, Talent Acquisition Specialist (Recruiter), defined Career Wellbeing as "liking what you do every day. It's feeling fulfilled in your work, working with purpose, and how your work helps you achieve what you want in life". She also mentioned that we want you to continue your career with Manatee County and that current employees have the opportunity to develop into whatever they want through hard work and willingness to learn. We recognize that career wellbeing boosts job satisfaction, morale, and engagement and therefore, we offer a variety of career-building benefits like leadership training and skill development. The mission of Training & Development is to develop our employees to be leaders, team players, and to maximize performance and productivity through empowerment.
Training Opportunities to develop your skills and enhance your job satisfaction:
Manatee County Government offers multiple training formats to help you grow and develop both personally and professionally. Training topics/programs are strategically developed to foster a leadership mindset and based on employee feedback. Below are the offerings currently provided to all BCC employees, and a sneak peak of some of the offerings for next year. If you're not a BCC employee, check with your HR departments regarding available training opportunities.
eLearning Courses: variety of skill development training videos that can be viewed at your convenience through the Learning Management System (LMS) for BCC Employees. Many topics available from Microsoft Word/Excel/PPT/Outlook to writing effective emails, conflict resolution, diversity, effective communication skills, to safety topics, and more.
Instructor Led Courses/Workshops; presented by trainers, in person and virtual, available from topics like Dealing with Difficult Situations/Conversations to Time Management, Interpersonal Skills, Writing Skills, to Presentation Skills and more!
Quarterly Supervisor Trainings: each quarter a training is made available with a relevant topic specific for supervisors; Time & Attendance, Giving Performance Feedback, etc.
Supervisor Leadership Program; designed to enhance leadership skills for those in a supervisory role with great potential for continued growth in our organization. Program includes 8 top leadership lessons, breaking thru the communication barriers, difficult conversations, accountability and managing change, motivating the people you lead and building teams, art of coaching, business writing, performance management & discipline, interviewing & hiring, employment law, recruiting and managing multiple generations.
Emerging Leadership Program: for "rising stars" within the department that are nominated by their department director. Program includes project development, business writing, planning, organizing & time management, traits of a great leader, breaking thru the communication barriers, dealing with difficult people, problem solving and decision making.
Wellbeing Presentations and Health Coaching; Employee Health Benefits offers wellness related topics like diabetes, sleep, financial wellbeing, nutrition, tobacco, fitness, behavioral health, weight loss, etc. Again, personal wellbeing contributes to the health of the organization!
EPE Employee Performance Evaluation Trainings: Many of the trainings for next year will focus on helping employees and supervisors have meaningful discussions that provide valuable feedback on performance.
Other Trainings outside of the workplace:
"Lynda" - Online library of unlimited on-demand instructional videos covering a wide range of software, creative programs, productivity, design, and business skills – available as a free benefit to Manatee County Library cardholders.
TED Talks/TEDx are short and inspiring recorded presentations on a variety of personal and professional development topics.
Free Webinars are plentiful. Many organizations in your area of interest offer webinars or tutorials. Google those organizations or topics of interest, or search YouTube.
Additional Opportunities to boost your career wellbeing (for BCC employees):
Employee Recognition Program – Aspire to earn one of these awards by discovering, offering or implementing an innovative idea, process or procedure, or contributing to the achievement of a highly desirable outcome; Employee of the Month, Employee of the Year, Team Award, Heroism Award, Pride Performance Award, Safety Award. Read More.
Toastmasters – Practice public speaking, improve your communication and build leadership skills by joining this group. Read More.
Manatee Millennial Movement (M3) – Peer to peer professional development. Focuses on opportunities for government and constitutional office employees to positively impact our neighborhoods. Read More.
Tuition Reimbursement – MCG pays 80% of USF prevailing rates towards a degree course related to an employee's current position. Contact Mike Gaston, x3866 in HR for more information.
Developing Your Skills Help: For guidance on finding a job that fits you, developing your skills or talking to your supervisor about a career plan, contact Rachel Quinn at x3859 and/or check out these Additional tips from Rachel.
More Training Information: For guidance on finding a training, utilizing the LMS, etc. please contact Kyle Rogers, Training & Development Specialist at x3860.
We in Training & Development look forward to bringing you more innovative opportunities next year to help you develop and boost your wellbeing!