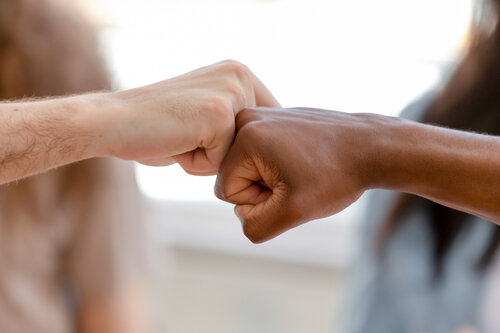 Marcus Harris, RDN
Registered Dietitian, Personal Trainer, and Fitness Instructor
There is no doubt that success looks different for each person and everyone is motivated by different factors. Some are motivated to change what they are doing for health reasons, while others are motivated by aesthetics or increasing performance. Whatever the case may be, it takes commitment and strategy. As a registered dietitian and fitness expert, I have helped over 100 YourChoice members get and keep results through motivation and accountability.
Take Tara, an MCSO deputy whose goal was to get healthier by improving food habits and increasing her fitness level. She also wanted to score high enough on the fitness test to earn more time off and promotion opportunities. In the past year, Tara has lost over 30 pounds and kept it off. By decreasing her weight, she has brought tremendous relief to her joints and improved her cardiovascular fitness. She is looking forward to not only passing but reaching her utmost potential for the next PT test. Accountability has kept Tara pressing towards the goal and continuing to stay motivated.
Another example is Kim, whose overall goal was to lose weight the healthy way and manage her blood sugar. Over the past year we have successfully helped Kim take control of her blood sugar with consistent physical activity and balanced nutrition. 60 pounds later, Kim has reversed diabetes by gradually increasing her activity levels and eating a balanced food plan without much restriction. She stays motivated and encouraged because she is committed to being accountable. Kim's understanding of patience has played a key factor in her success.
Achaia wanted to decrease body fat and become more toned – she has conquered that and more. She has successfully maintained her lean body mass (skeletal muscle mass) and decreased her body fat by over 30 pounds within the last year! Achaia has been faithfully attending group fitness classes 3 times per week during her lunch break and engaging in light movement on alternate days. She owes much of this success to the ongoing nutrition support and fitness accountability. She embraced the idea that change takes time rather than looking for it to happen overnight. She has stayed motivated because she was able to get results without being pressed for weight loss and militant exercise.
It is better to strive for making sustainable lifestyle changes rather than quick fix approaches. I believe that it takes commitment and consistency, but it does not have to be a miserable experience. Most of my successful clients embrace the idea that change is a journey rather than an event. That means that I will always meet you where you are and plan for progress. These are just 3 of many success stories. If you are tired of spinning your wheels with fitness or nutrition, let's put our heads together and get you on the right path to health!
Fitness and Nutrition Benefits
Manatee YourChoice Health Plan Members receive 5 free personal training sessions AND 5 free Registered Dietitian visits each year. Because Marcus is both an RD and Personal Trainer, members can utilize up to 10 visits each year to work with Marcus on their nutrition and fitness goals. In addition, members can continue to see an RD like Marcus after their first 5 visits for a $25 copay (up to 20 total visits each year). Learn more about your RD benefits on the Nutrition page on our website.
About Marcus Harris, RD/N
US Navy veteran and Personal Trainer turned Registered Dietitian Nutritionist, Marcus Harris is no stranger to the nutrition and fitness world. As a men's physique competitor, Marcus has put his body and mind to the test on multiple occasions to both prove and debunk common misnomers about nutrition and weight management. As the owner of 20/20 Nutrition, Marcus works with Health Plan members and community members to achieve their personal health goals.