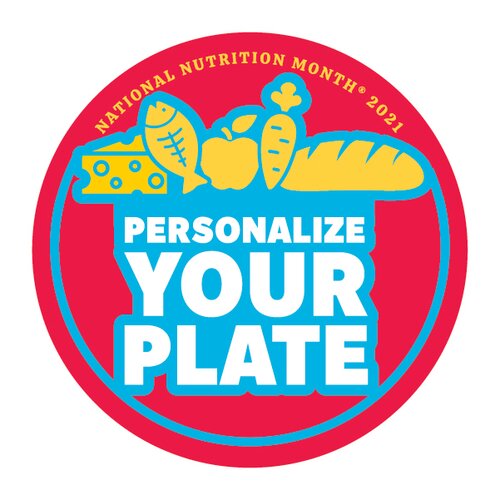 Florey Miller MS, RD/N, CDCES
Diabetes and Nutrition Programs coordinator
March is National Nutrition month - my favorite time of year. The theme for 2021 is Personalize Your Plate, which means tailoring your favorite foods to meet your unique nutrition needs, your cultural and taste preferences, as well as your schedule and cooking inclinations. There is no one way of eating that suits everyone. America is one huge melting pot, so certainly not everyone's food choices are the same!
A healthy eating pattern can include foods for vitality and wellness, plus some room for treats. Eating is meant to be a pleasure, but also serves to nourish our bodies.
As an RD/nutritionist I often see people following the "Dr. Jekyll and Mr. Hyde Eating Plan." In other words, eating either in a very restrictive, non-enjoyable style OR… a food free-for-all. Neither extreme is healthy or makes you feel good. We all have to find our 'sweet spot', where we are happy and satisfied with our diets but still taking care of our bodies. Some people think of this balance like the 80/20 rule – eating healthy stuff (that we like!) 80% of the time and balancing it with 20% of foods we love that may not be healthful.
A nutritious style of eating can help prevent diseases and conditions such as high blood pressure, heart disease, kidney disease, type 2 diabetes, osteoporosis, sleep apnea and some types of cancer. Healthier eating also makes it easier to lose weight, which can help with back, knee, and feet pain.
Eating healthfully can absolutely fit into your schedule, your lifestyle and your food preferences. You do not have to give up your favorite food or cultural and family traditions. There are new ideas for how to create nutritious meals that align with a variety of cultural preferences. Watch for healthy recipes that come from other cultures to help you personalize your plate, as well as helpful tips throughout National Nutrition month. Also, our Manatee YourChoice Registered dietitian/nutritionists can help you fine-tune traditional recipes, provide alternative cooking methods and other healthful advice for incorporating family-favorite foods into everyday meals.
5 ways to celebrate Nutrition month:
Swap it smart. Swap out one refined, low-fiber starch/carb that you eat frequently (such as white rice, flour tortillas, white bread, or pasta) for the whole grain version for more nutrients and fiber that are lost during processing. Vary your choices to include seafood, beans, peas and lentils, as well as eggs, lean cuts of meat and poultry
Make eating extra veggies easy. Cut up several raw vegetables to eat throughout the week. Store in a Tupperware container and serve with hummus or guacamole as a dip. Try mixing plain Greek yogurt with a few tablespoons of powdered ranch dressing mix - it tastes great for less calories.
Choose nuts instead of chips. You'll still enjoy a salty crunch but you are getting the cardio-benefits of good fat.
Make sure you are really hungry for a snack instead of just bored (chew a piece of gum instead for mouth entertainment).
Find drinks you like with no calories. If you like to eat, it's a waste to spend your calories on beverages when there are so many drinks that taste good yet have zero calories.
Put your best fork forward and enjoy National Nutrition month!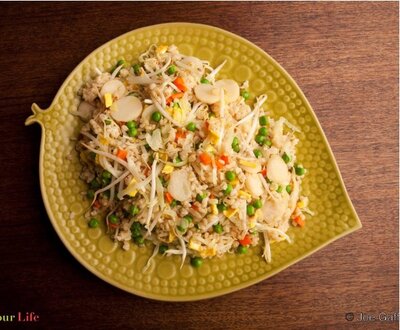 Pineapple Fried Rice
Florey Miller, adapted from Fred Hutch at CookForYourLife.org
30 min to prepare, 4 servings
I love fried rice, but I hardly ever do take-out anymore because this recipe is so easy and I can put what I like into it. Sometimes I don't even use the rice! I use cauliflower rice or mix the two. Rice freezes well, and when you are tired from a long day, frozen rice is a great standby. So, when I make brown rice at home, I always try to make extra for the freezer, too. You can throw frozen rice into soups to bulk them up, steam it to heat up for a fast side dish, or use it to put together a quick, nutritious favorite like this fried rice. The tofu, veggies, nuts and frozen brown rice in our Pineapple Fried Rice version will give you a delicious, easy-to-make, one-pot dinner that puts all the nutrients you need on one plate in minutes. If you do not care for tofu, you can substitute shrimp, chicken etc.
Ingredients
2 tablespoons canola, peanut or grape seed oil
1 teaspoon sesame oil
2 cloves garlic, minced
½ teaspoon red pepper flakes, or to taste
1 tablespoon fresh ginger cut into matchsticks
8 ounces firm tofu, cubed (or use chicken or shrimp)
2 cups cooked short-grain brown rice (if using frozen, make sure to thaw)
1 tablespoon soy sauce
1 teaspoon Thai fish sauce (optional)
1 cup frozen mixed vegetables (with carrots, corn and peas; or choose your own mixture of fresh or frozen veggies)
1 can sliced water chestnuts
½ cup cubed fresh pineapple
½ cup roasted and salted cashews
4 cups spinach
Directions
Heat oils over medium-high heat in a wok or wide skillet. Add the garlic, red pepper flakes and ginger. Cook, stirring, for 1 minute.
Add tofu, and cook undisturbed for 5 minutes to start browning, then stir occasionally, another 5 minutes until the tofu is lightly browned on most sides. If using chicken or shrimp heat and stir until cooked through.
Add the rice and stir to break up. Add the soy and fish sauces. Mix well for 3 minutes. Then add the frozen vegetables and stir until no longer frozen. Mix in the water chestnuts.
Stir in the pineapple, cashews and spinach and continue to stir until the spinach has wilted. Taste to see if you would like extra soy sauce or red pepper flakes.