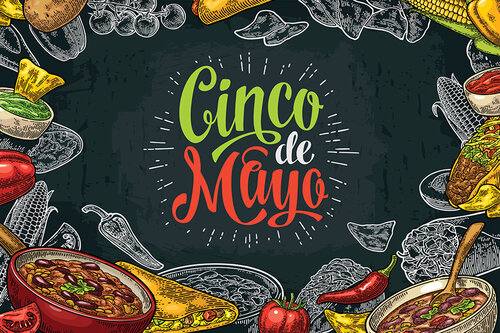 Florey Miller, MS, RD, CDCES
Registered Dietitian & Certified Diabetes Care and Education Specialist
In Mexican history, May 5th commemorates the Mexican Army's victory over the French at the Battle of Puebla in 1862. While it's only a minor celebration in Mexico, it has become a much larger celebration of Mexican culture and heritage in America. Whether you're celebrating Cinco de Mayo or Taco Tuesday, here's some dietitian-approved recipes for your Mexican-inspired meal.
Remember, YourChoice Medical Plan members get their first 5 sessions with a Registered Dietitian at no cost to them. If you want help adapting your favorite family recipes or cultural eating traditions to reach your own personal nutritional goals, contact Florey Miller or read more about your nutrition benefits.
Grilled Salmon Tacos with Avocado Cabbage Carrot Slaw
From the Hass Avocado Board
This slaw makes a refreshing topping for the salmon inside warm corn taco shells. Recipe makes 8 tacos and some extra slaw for next day lunch salad.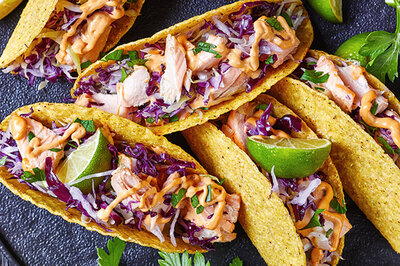 Ingredients
12 ounces fresh salmon fillet
½ tsp cumin
¼ tsp black pepper
8 small sized corn tortillas
For the slaw:
2 ripe avocados, peeled and diced
¼ cup white vinegar
2 Tbsp water
1 Tbsp sugar
½ tsp cumin
4 cups shredded cabbage
2 cups carrots, shredded or grated
½ cup diced red onion or sweet onion
¼ tsp salt
Directions
Sprinkle salmon filets with cumin and black pepper and wrap in foil.
Grill over medium heat for 10 to 12 minutes, turning once, until cooked through.
While salmon grills, prepare the slaw. Chop all vegetables and combine with remaining slaw ingredients together in one bowl. Toss well.
Wrap tortillas in aluminum foil and place on grill for 4 minutes, turning once until warm.
Fill each of the 8 tortillas with salmon and top with slaw.
Nutrition information for one taco: 400 calories, 41 g carbohydrate, 6 g added sugar, 20 g protein, 17 g fat and 240 mg sodium.
Fiesta Red Beans
Florey Miller, MS, RDN, CDCES
Provides 4 portions. Can serve with rice if you like.
Ingredients
1½ cups dry red beans (or 2 - 15 oz cans red or kidney beans)
2 Tbsp olive oil
1 cup chopped onions
2 cloves garlic, minced
1 tsp cumin
1 tsp paprika
1 cup chopped carrots
1 green pepper, chopped
1 tsp black pepper
¼ cup chopped parsley
1 cup orange juice
2 ripe tomatoes, chopped
Salsa
Directions
Soak beans overnight (if using canned beans just rinse and drain no need to cook. Skip to step 3.
Place soaked beans in a pot with 4 cups fresh water. Bring to a boil, reduce heat to simmer, cover and cook for a least one hour.
Meanwhile in a sauté pan, heat the olive oil. Saute the onions, garlic, cumin and paprika until onions are soft. Add carrots and sauté 5 minutes more.
Now add black pepper, parsley, orange juice and tomatoes and simmer slowly until vegetables are tender.
When beans are done, combine with vegetable mixture. Serve with salsa.
Nutrition information for one serving (using dried beans and without rice): 283 calories, 48 g carbohydrate, 13 g protein, 8 g fat and 283 mg sodium.
Turns out perfect Chunky Guacamole
Florey Miller, MS, RDN, CDCES
There are 2 ways to prepare this, but it always turns out perfectly – chunky and spicy! Makes 4 servings.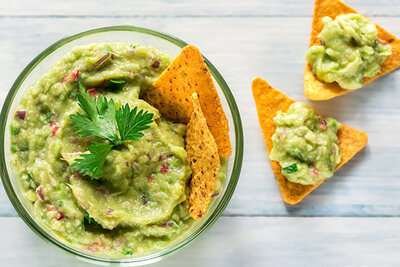 Ingredients
¼ cup tightly packed cilantro leaves
1 medium sized ripe tomato
1 clove garlic
1 medium jalapeno pepper, remove seeds (or if you like a hotter flavor keep the seeds in or use a fresno or hotter pepper)
1 green onion, including 2 inches of the green part
3 ripe avocados, cut in half and green flesh removed from peel
2 Tbsp lime juice (this is usually from one lime)
¼ tsp chili powder
¼ tsp cumin
¼ tsp kosher salt
Directions
Method one: Food processor (Follow the directions. Resist the urge to toss all the ingredients together or it will be smooth, not chunky)
Insert the metal blade. Pulse 10 times to chop cilantro. Remove and reserve.
Pulse 10 times to chop tomato, remove and place with cilantro
With the machine running, drop the garlic clove and the jalapeno pepper into the feed tube and process until minced. Add onion to this, process for 10 seconds.
Now add avocados, lime juice, chili powder, cumin and salt to the food processor. Process for 30 seconds. Scrape down the bowl and process for another 30 seconds.
Add the reserved cilantro and tomato. Pulse until just combined.
Method two: By hand
Finely mince the garlic and jalapeno (wear gloves or wash hands immediately after chopping any hot pepper). Place in a glass or wood serving bowl.
Add the avocado to the bowl and use a fork with long tines to smash it to the consistency you like.
Finely chop the onion, tomato and the cilantro and add it to the bowl along with lime juice, chili powder, cumin and salt. Stir well to combine spices.
Nutrition information per serving: 108 calories, 5 g carbohydrate, 1 g protein, 10 g fat and 79 mg sodium.
Margaritas Two Ways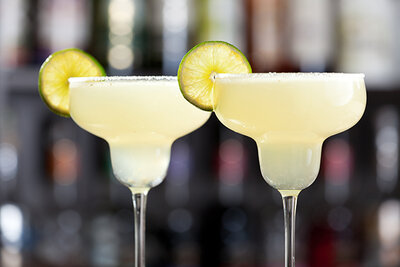 Pomegranate Margarita
From 101 Margaritas by Kim Haasarud
Ingredients
2 oz tequila
2 oz pomegranate juice
1 oz triple sec
½ oz lime juice
½ oz simple syrup or agave nectar
Directions
Combine all ingredients in a cocktail shaker filled with ice and shake vigorously. Strain into a glass.
Frozen Virgin Margarita
From 101 Margaritas by Kim Haasarud
Ingredients
2 oz simple syrup or agave nectar
1 oz lime juice
1 oz lemon juice
1 oz orange juice
Directions
Combine all ingredients in a blender with ¼ cup ice and blend until smooth.