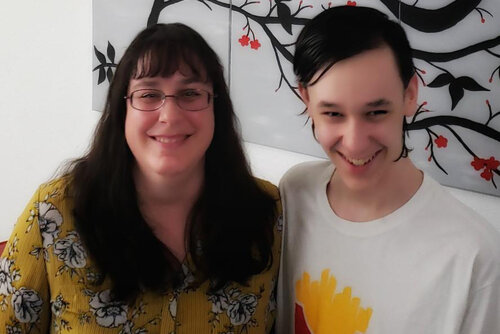 Vanessa Rene, CPhT, RPH
Pharmacy Technician
As a mother of a child with Autism, I am passionate about Autism awareness. My son is 13 years old. There are amazing days and days I just want to hide from the world. He has incredible gifts and capabilities that surpass my own, and he also struggles with some basic skills. Both his gifts and his struggles can make typical childhood things like attending school, going to the movies, or visiting Disney World a challenge. April is Autism Awareness Month, so I would like to take this opportunity to spread awareness and acceptance of Autism around Manatee County.
What is Autism?
Autism is a developmental disability that typically appears during early childhood. It can impact social skills, communication, relationships, and self-regulation. The diagnosis of Autism covers a spectrum of conditions which can vary widely from person to person. Since Autism is a spectrum disorder, each person with Autism has a different set of strengths and weaknesses.
Autism affects all ethnic and socioeconomic groups and its prevalence varies across the world. The United States has the largest percentage of children diagnosed with Autism. In 2020, the CDC reported that approximately 1 in 54 children in the United States is diagnosed with an Autism Spectrum Disorder. Boys are 4 times as likely to be diagnosed than girls. 1 in 34 boys will be identified with Autism, compared to 1 in 144 girls.
Other countries with high percentages are Japan, Canada, Ireland, and Denmark. It is believed that these higher percentages are the result of having a higher awareness of Autism, thus more diagnoses.
What Causes Autism?
There has been a lot of research to determine what causes Autism. So far, research is indicating that genetics are involved in the majority of cases. Environmental factors may also play a role, such as the parents' or child's exposure to environmental toxins such as pesticides. A study published in 2019 showed that Autism could be the result of spontaneous DNA mutations. They found that out of 1,790 individuals with Autism, 30% of the cases had an irregularity in the DNA.
Over the past 20 years there has been extensive research into the possible link between childhood vaccines and Autism. The results of the research are clear: Vaccines do not cause Autism.
Caring for Someone with Autism
Most children are diagnosed with Autism after the age of 4. Early detection and interventions, such as behavioral and educational therapies, lead to better outcomes. There are many therapies proven to help with children with Autism, such as Applied Behavior Analysis, Physical Therapy, Speech Therapy, and Occupational Therapy. You can call our LAMP Supervisor Randi McDowall at ext. 6469 if you would like to discuss therapy options and providers.
There are also many medications that can be prescribed to help with the symptoms of Autism. They can help with attention-deficit hyperactivity disorder, anxiety, self-injury, aggression, and seizure disorder. You should have a candid discussion with your child's doctor to discuss what symptoms your child is having and what medications may help. If you have questions about side effects or general medication questions, you can always call our Clinical Pharmacist, Alma Leon, at (941)748-4501 ext. 6406.
Caring for someone with Autism can be very overwhelming and stressful at times. Our LAMP counselors are here if you need to talk – call the LAMP line at 941-741-2995. Your first 5 visits are free and are available via in-person or telehealth.
Or, if you want to talk with someone who personally understands your struggles, I am happy to chat about what I've learned over the past 13 years and help connect you with some local resources. You can call me at (941)748-4501 x6418.
Community Support Services
Manatee County is rich in Autism community services. Here are just a few...
Face Autism. This is a program that supports people with Autism and their families. They have many wonderful events throughout the year, such as bowling, swimming, movies, sensory friendly Santa and Easter events etc.

CARD at USF. The Center for Autism and Related Disabilities at USF provides support and information to families.

Spark for Autism. This is a research platform trying to determine the causes of Autism. They mail you a DNA test kit for the child with Autism as well as the parents to look for links. They also do several surveys throughout the year on Autism.